Here at Lincoln Fun Bus we have designed party packages for every budget. Our unique and exclusive parties offer your child and their friends an experience they won't forget. So.... wait at the personalised bus stop...and have your tickets ready for our conductor to inspect, then hop aboard Lincoln's only Double Decker Play Bus.

After all, "When the bus stops, the fun starts".


We offer the following time slots for weekend parties, although we may need to amend these occasionally due to operational requirements.
10.30-12noon *
1pm-2.30pm
3.30pm-5pm *
* 2-hour time slot parties available: 10.00am -12.00noon/3.30pm - 5.30pm
Please Note: For those parties outside of the free delivery area, start times during the winter months will be from 11am to allow for any possible inclement weather conditions and additional travel time.
Whichever party package you choose, you're guaranteed a unique party experience that your child and their friends will enjoy.
All parties are for up to 18*children aged 3 to 8. (*Parties are limited to 16 for younger children due to the increased parental supervision often required)
All party packages come with the following included within the price:

Downloadable Party Invitiations
Downloadable Thank You Letters
Personalised "Bus Stop" sign for the Birthday Child
Exclusive Driver's Seat Photo Opportunity for the Birthday Child
Premium Plus Package - £200
• Bus Driver and Conductor to assist at your party.
• Includes one and a half hours of soft play on the bus.
• A complimentary Lincoln Fun Bus drinks bottle for each child
• Unlimited orange squash, blackcurrant squash or water
• A snack break to include a choice of one of the following: (Quavers/Wotsits/Monster Munch/Space Raiders/Frazzles/Chipsticks/Snaps) AND ALSO
a choice of one of the following: (Mini Cookies/Mini Gingerbread/ Iced Gems or raisins) - flavours & options may vary - subject to availability
• Free downloadable invitations and thank-you letters
• Free Flag & Badge for every child on leaving the bus as a memento of their time aboard
• The Birthday boy/girl can sit in the Driver's seat for an exclusive photo opportunity!!
• Personalised Bus Stop sign for the birthday boy/girl to keep
Includes everything within the Premium Plus Party Package plus

• A Lincoln Fun Bus Bear for the Birthday Child
• A Lincoln Fun Bus Personalised Cake -
(
Vanilla Sponge ,raspberry jam with buttercream filling) - serves 22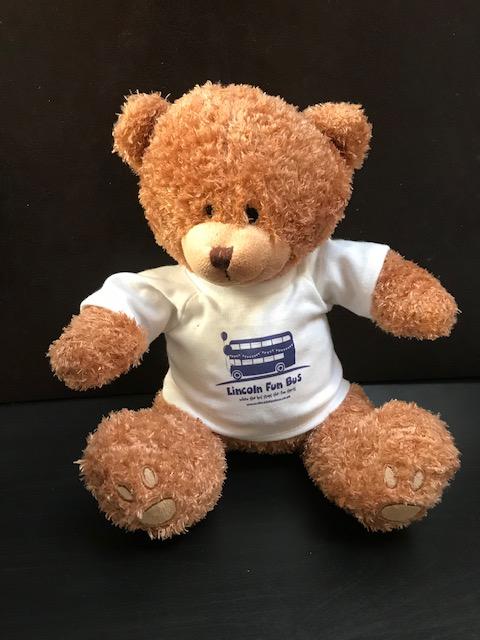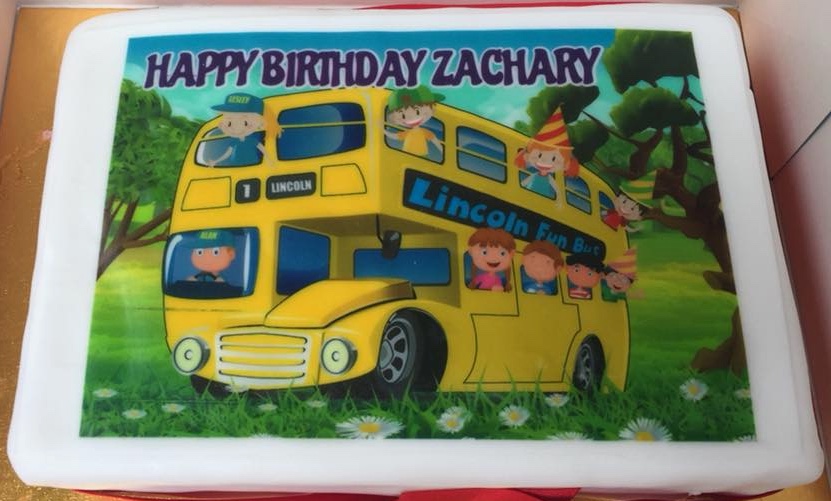 The Lincoln Fun Bus Bear & Cake are also available to purchase separately.
Lincoln Fun Bus: Bears £10 / Personalised Cake £15
Whether it's a family event you're having; wedding /christening or a corporate event; fun day/children's day or if you're organising a public event; fete/festival/gala etc. then we can bring Lincoln Fun Bus to you to keep the little ones busy.
Prices start from £200 for 2 hours (depending on the distance from our base).
If you have any special requirements we will do our best to accommodate them, just ask!